Information
Spearfighters are the very first military unit in the game. They are trained in a Spearfighter Barracks, which is unlocked after researching the Spears technology. Unlike other units, it takes only a short time (20 seconds) to be trained.
Spearfighters have a defense bonus when standing in bushes and forest terrain. Their effectiveness against Fast Units. After the horseman, they have the highest attack and mobility in the Bronze Age. They, however, take additional damage when attacked by heavy-class units.
They throw spears when they attack.
They are succeeded by the Soldier in the Iron Age.
Usage
A player will rely on Spearfighters for quite a while as a result of their versatility and low cost. Furthermore, the Spearfighter, with its short recruitment time, quick healing time, and low training cost, it acts as a great cannon fodder. If a quest requires you to delete units, normally the Spearfighter are the best choice in place of more valuable units.
As with all units, other units can cover their weaknesses. Warriors can be dealt with Slingers.
At the Bronze Age, Spearfighters can be used to attack Warriors if no other options are available, as the Bronze Age Warrior is not as strong vs. the Spearfighter than in other later ages.
Two spear fighters are the default city defense if no units are selected otherwise. Two unattached spearfighters are provided in the tutoiral.
Gallery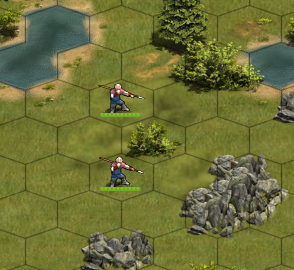 Other Military Units
Legend:

= Light Unit Class

= Heavy Unit Class

= Fast Unit Class

= Ranged Unit Class

= Artillery Unit Class