The Tank is the heavy unit of the Progressive Era and it is trained in a Tank Factory. Same as other heavy class units, it has a moderately low damage, the highest defense, and moderate speed. No terrain bonus is received from plains, unlike from previous ages. It is vulnerable to both Artillery Unit, i.e. Rapid Fire Cannon and Light Unit, i.e. Conscript. It is effective against both ranged units and fast units.
Against Same Age Units
Not only the tanks will have a hard time reaching RFCs but theirs low damage against the Dug-In and the high defense bonus against Heavy Units of the RFCs mean that they will survive many shots from Tanks. Prioritize another target and leave the Cannons for the Snipers or Conscripts.
The Armored Car is the primary target for the Tank. It's massive bonuses allows it to destroy the Armored Car without taking much damage in return.
Although this matchup is not as unfavourable as against the Rapid Fire Cannons, this is a fight the Tank wouldn't want to take part in. Plus, if the Conscript is in a trench, the Tank will do little damage to it. It is advisable to pair the tanks with snipers to take out the conscripts first.
The Tank is one of the Sniper's biggest counters. They may not have the mobility to get near a sniper as effective as the Armored Car, but the Tank is resistent enough to sustain many sniper shots to finally get near them and take them out.
Image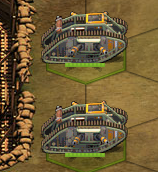 Other Military Units
Legend:

= Light Unit Class

= Heavy Unit Class

= Fast Unit Class

= Ranged Unit Class

= Artillery Unit Class
Community content is available under
CC-BY-SA
unless otherwise noted.