The Tenth Anniversary Event was a new special event that began on 30th March 2022 and ended on the 20th April 2022.
Dear Queens and Kings!
Welcome to an event 10 years in the making, created for Forge of Empires to celebrate its 10th anniversary.
We went through many ups and downs and achieved numerous milestones since 2012. We would like to thank you for playing Forge of Empires and for supporting it during the last ten years. We'd also like to extend our special thanks to all of the regular members who constantly provide us with information and feedback, as well as supporters and moderators, who helped make the community what it is today.
To celebrate the 10th birthday, Forge Fact Finder, makes his first appearance. He will take you on a short sentimental ride through the history of Forge of Empires. At the end of each of his quests, you will be rewarded with Money or Golden Dice, these can be used in the board game. The money pays for normal dice rolls, land on a tile to collect the prize. Each prize is either, coins, supplies, medals, an avatar (from those you do not have), a chest(either common or rare) and Event buildings or selection Kits from various past Events from the last 10 years.
New buildings are available as well, some are in the presents in the bottom Left corner of the board, others are in the Grand Prizes, these are collected every time you go around a full board. There is also a chest for completing the daily target, as with All Chests the Daily special is a possible prize
Sincerely,
Admin Team Forge of Empires Wiki
Milestone Rewards
[
]


Something Golden for each Milestone completed
Event Window
[
]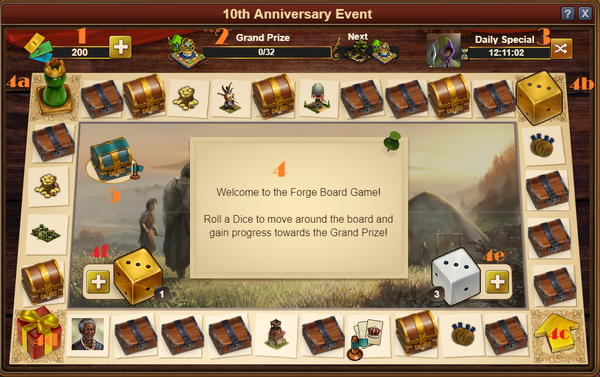 Above you can see, the 10th Anniversary Event window containing the following elements:
1.

Paper Money the currency of the Event, use the Plus sign to exchange

Diamonds for

Paper Money.
2. The Grand Prize. It is obtained by completing a full tour of the board.
3. The Daily Special. It changes at midnight on the local Server. By landing the chest there is a chance of winning it, however if you are not happy with the Daily Special you can change it once per day for an alternative Daily Special for the remainder of the time on the clock.
4. The Forge Board Game Board
4.a This is the starting point Square 0/32, Land on or pass it to collect the Grand Prize also shows your counter.
4.b Square 11, Land on it once per day to claim 1
Golden Dice, Land on it again before midnight and collect 125

Paper Money.
4.c Square 16, Land on it and your chance of finding a Daily Special increase by 5% for 5 hours, should you land on any square with a chest
4.d Square 27, Land on it for a chance to collect part of the
Grand Monarchs Set
4.e The Plus sign has been replaced by

Paper Money & -100 to indicate the cost to roll a dice. If the -100 is Red you can not roll the dice
4.f This shows the
Golden Dice available use the Plus sign to exchange

Diamonds for more
Golden Dice. When within 6 of a square you want to land on you can use the
Golden Dice to advance to it.
5. This is the Daily Goal Chest.A random reward should you reach or pass the associated flag.


Getting Paper Money & Gold Dice
[
]
You start the event with 300

Paper Money & 1
Golden Dice, you can get more in different ways:-
Firstly, by completing the quests.
Secondly, By collecting the reward for logging in daily.
Thirdly by finding them in Special Incidents around your City,


Each of the presents will contain 5, 10, 15, 20, 50 or 100 in

Paper Money (Rare ones will contain more).
And Finally by buying them with diamonds:
| Amount | Cost | Cost per Paper Money |
| --- | --- | --- |
| 100 Paper Money | 200 Diamonds | 2.00 / |
| 400 Paper Money | 750 Diamonds | 1.81 / |
| 1,200 Paper Money | 1,990 Diamonds | 1.66 / |
| Amount | Cost | Cost per Golden Dice |
| --- | --- | --- |
| 1 Golden Dice | 395 Diamonds | 395.00 / |
| 5 Golden Dice | 1,850 Diamonds | 370.00 / |
| 15 Golden Dice | 5,200 Diamonds | 346.67 / |
Expected Paper Money & Golden Dice receive during the Event
Beginning of the Event
300 Paper
Money
1 Golden
Dice
Daily Connections
22 x 120
2,640 Paper
Money
Completing Main Quests
37 x 65
3 x 1
2,405 Paper
Money
3 Golden
Dice
Completing Daily Quests
19 x 120
2 x 1
2,280 Paper
Money
2 Golden
Dice
Milestone Bonus
1 x 500 and
1 x 1,000
1,500 Paper
Money
Total
9,125 Paper
Money
6 Golden
Dice
Quests
[
]
The event features two questlines presented by the Forge Fact-Finder. The Main Questline and the Daily Questline. Every solved quest grants the player some Paper Money or Golden Dice. The quests have to be solved in the order they are presented and no quests are abortable. Please note that for a small amount of quests the difficulty has been decreased as part of the Event balancing, this may mean less needed to complete a quest or an easier quest replacing a harder one.
The Daily Questline will give you one quest per day, for the 21 days of the event. These Quests will stack until you have completed the Main Questline. So you will not miss any if you do not complete the Main Questline on the first day. After completing the Main Questline, you will be able to complete stacked Daily Quests without any delay and after that, one quest per day.
Note: Where the word "some" appears in the quest text below, the amount differs depending on the Age the player is at. The Lower Numbers in brackets are for Bronze Age(BA). The second number in brackets is for the Space Age Venus(SAV).
To get a better idea of your exact requirements Click Here and use the Tables provided, please be aware that the Final Table is incomplete as we do have players from those Ages that could help.
If you are browsing this page on desktop, you can click on each individual quest to mark it as done, thereby making it easier to keep track of your upcoming quests.
Main Questline
[
]
Daily Questline
[
]
Prize Systems
[
]
The Board
[
]
Advance 32 Squares to complete 1 tour of the Board then collect a Grand Prize and Advance an Age, from Stone Age to Space Age Venus, should you complete 20 tours you will start the rewards list again from Stone Age.
Each of the 4 corner Squares has a fixed feature:
Land on Square 11 to collect a free Golden Dice or 125 Paper Money if landed on more than once in a day.
Land on Square 16 to improve the chance of collecting a Daily Special reward by 5% for 5 hours
Land on Square 27 to win part of the
Grand Monarchs Set (Pink Gift Box for the Queen & Red Gift Box for the King)
And then pass or land on Square 32/0 to collect a Grand Prize and advance an age.
The Board also rewards the player with a prize for every square landed on during each tour.
Basic rewards of Coins, Supplies or Medals
Common Chests or Rare Chests (where a Daily Special can be won)
as well as Special Buildings from Previous Events from the last 10 Years.
And finally two new Avatars the Party King

& Party Queen

as well as the chance to collect other Avatars that are missing from your porfolio.
Grand Monarchs Set

[

]
Grand Prizes
[
]
Currently there are 20 different Ages/Eras in the Game (currently) and each has a board that gives a prize as shown below. Once you have completed the Space Age Venus board for the first time, that board and name will remain in play, however the prizes will revert to the start of the list and appear in the same order as that of each Age/Era.
Daily Specials
[
]
Daily Special Prizes can be won with each chest on the board.
The list for the Beta server may be found here.
A green check mark (✅) indicates that the prize is confirmed in the live servers.
Chests
[
]
There are two types of Chests that can be landed on and one that can only be claimed if you land on or pass the flag that marks the Daily Goal Chest.
Daily Goal Chest
[
]
Rare Chests
[
]
Rare Blue Prints Chest

Rare Forge Points Chest

Rare Historical Buildings Chest

Rare Medals Chest

Rare Military Boosts Chest

Rare Rush Chest

Rare Special Units Chest
Common Chests
[
]
Common Blue Prints Chest

Common Biuldings Chest

Common City Management Chest

Common Forge Points Chest

Common Fragments Chest

Common Goods Chest

Common Military Boosts Chest

Common Resource Boosts Chest

Common Units Chest
New Buildings
[
]
Building
Size
Function
Age Advanceable

Golden Orrery

4x5
Special residential building
Provides population, Supplies, 11% - 27% Defense Boost for the attacking army, 10 Forge Points, 10 Previous Era Goods and a random Bonus of 10 of the 30 m Mass Supply Rush fragments, 5 of the 20% Attack Boost fragments or 2 of the One Up Kit fragments.

Yes

Stage of Ages

4x4
Special residential building
Provides population, Happiness and 7% - 19% Attack Boost for the attacking army. Additionally when motivated, provides 4 Forge Points and 15 Previous Era Goods.

Yes

Grand King

3x3
Special residential building
Provides population, Coins, Medals and 5% Attack Boost for the attacking army. When connected to the Grand Queen, provides an additional 2 or 5 Forge Points

Yes

Grand Queen

3x3
Special residential building
Provides population, Coins, 10 Goods and 5% Attack Boost for the attacking army. When connected to the Grand King, provides an additional 1 or 3 Forge Points

Yes
Other Events
[
]