The Trebuchet is the High Middle Ages Artillery unit. It is a great improvement from the Catapult. They are effectively used when put on hills and while attacking Heavy Infantry or other Heavy units, as they can cause serious damage to them. Trebuchets cannot hurt Cannons significantly, but they cause heavy damage to other squishy units that do not have the dug-in ability.
Gallery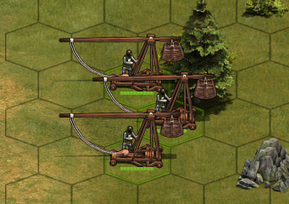 Other Military Units
Legend:

= Light Unit Class

= Heavy Unit Class

= Fast Unit Class

= Ranged Unit Class

= Artillery Unit Class
Community content is available under
CC-BY-SA
unless otherwise noted.