Unlocked in the Iron Age after having researched the Processions technology. It provides 190 Happiness. When polished, happiness doubled to 380 happiness.
Efficiency

31.67 per tile.[1]
Update
In update 1.85, the graphic of the Triumphal Arch was updated.
Image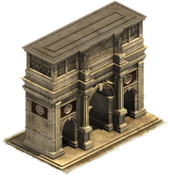 Other Cultural Buildings
↑

Efficiency is measured by the total happiness provided by the building divided by the number of tiles of the actual building occupies. To be used as an objective comparison towards other cultural buildings.
References