Welcome to Forge of Empires!
This page thrives to introduce the player to the different aspects of the game.
Starting a City
To start the game, the player will found a city on one of the game servers - also called worlds.
---
Old Content
World
Buildings
Events
Resources
Special Skills (cat. atm)
Neighborhood
Portraits
Province Owners
Provinces (cat.)
Quest Givers (cat.)
Recurring Quests
Random Reward
Siege Costs
Technology
Treasure Hunt
Visitation Actions
Ages represent a general state of technological advancement, that determine the state of your city house and the diamond cost buildings that are available.
The Antiques Dealer is a feature which aims to help players exchange unwanted items in their inventory for trader coins and/or gems, depending on their worth. He will buy your items for a price and offers new items you could buy from his shop. The Antiques Dealer becomes available when you unlock the technology Economics in the tech tree.
Each Boost Crate represents a random boost item you will get when you open it. There are 4 different kinds of boosts:
Changelogs are a comprehensive list of the developments and updates which take place in the game. Our wiki endeavours to provide the latest changelogs as soon as possible. They can also be found in the forum.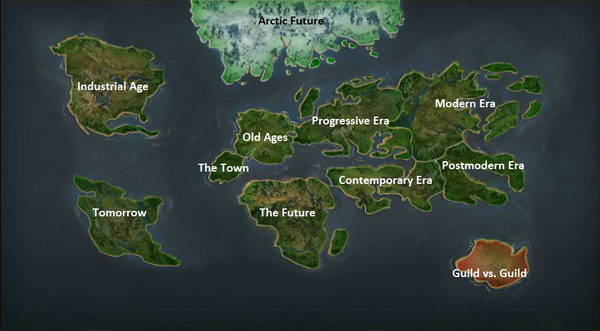 ​
Cultural settlements are challenges, themed according to the culture the player has chosen. Finish all settlement quests to finish a Cultural settlement and gain the settlement reward. Only one Cultural settlement can be active at the same time. Each Cultural settlement can be replayed multiple times, offering different rewards for each finished settlement.
Daily Challenges are quests which when solved present the player with lucrative rewards. They are currently in the testing phase. They are comparatively tougher than regular quests and are completely optional.
Expansions allow the player to enlarge the building area of their city. One expansion unlocks an area of 4x4 tiles that has to be placed adjacent to the current building area grid. There are three ways to expand the building area: by paying with coins, by medals, or by diamonds. Expanding is crucial to increase supply and coin output. The player starts the game with 16 4x4 tile expansions.
Forge Points, or simply referred to as "FP", are used to research various technologies, trade with other players, and to upgrade Great Buildings.
A major component of Forge of Empires is Friends. Just like in real life, friends are vital to progressing in the game. The friend list opens up a whole new world in the social bar. This article deals with information and making friends, limitations and advantages.
The building is placed in the wilderness outside the city and is unlocked once the technology of Construction is researched. It holds place for 3 friends at first. Every friend visiting generates a set amount of Tavern Silver that can be collected at any time. This tavern silver can be used to buy helpful boosts in the Tavern Shop.
A Guild is a network of players in Forge of Empires that assist each other by giving advice, motivating and polishing, and fulfilling trades.
Guild Expeditions is a cross-platform cooperative feature where you and your guildmates fight your way through a number of battlefields to get ahold of rewards and guild power.
Support Pool is a component that used along with the Support Factor to determine the Support Bonus in a province. The Support Bonus boosts your defending (and sometimes siege) armies in your sectors.
Happiness of your population influences production and income. Happier citizens will pay more taxes and work harder for you, if they're enthusiastic you'll receive a whole 20 % bonus Gold and Supplies. You also get 20 % more points for tournaments and your overall score may grow faster. Max out when ever possible and do not let it ever fall to 50 %. Happiness does not affect the production of Goods Buildings.
The Hit Point is a unit describing the energy of all military units.
All controllable units start a battle with 10 hit points. This number can however be affected by special skills of other military units such as morale by military drummers. Enemy units can also be affected if the enemy army contains hit point affecting units.
All unplayable units on the campaign map also start a battle with 10 hit points but this number can be reduced by one point if the sector is infiltrated by the player. When a unit loses all of its hit points, it is killed.
Incidents are little things that happen in your city, and around it, while you are online or offline. Each login changes the place where existing incidents are placed. You may have up to 5 incidents spawning during one day.
When you click on an incident, it will disappear and give you some something in return - mainly in-game resources, including coins and supplies, but also medals, boosts or diamonds.
InnoGames GmbH is a developer and publisher of browser-based and mobile online games. They are the founders of Forge of Empires.
Other Military Units
Legend:

= Light Unit Class

= Heavy Unit Class

= Fast Unit Class

= Ranged Unit Class

= Artillery Unit Class
Negotiation
It is possible to use goods to negotiate with a province as opposed to fighting for the province. The province will demand a minimum of one and a maximum of four different types of items. The amount of each item they require to buy the province scales to the difficulty it would be to conquer the province instead.
Special buildings are buildings that have mostly been available for limited periods during events and are not available through the player's building menu. They are either unlocked by certain technologies or given as a reward in events, bonus quests, Cultural settlements, Daily Challenges or Guild Expeditions. Most Special buildings can be placed back into the player's inventory by using a Store Building.

Other Special Buildings
Community content is available under
CC-BY-SA
unless otherwise noted.