Honouring the Trailblazers
Auctorius
★ Main Administrator ★
We're kick starting our Honouring the Trailblazers series with Auctorius, who wasn't the founder in the strictest of definitions, but by all other definitions has been the pioneer of the Forge of Empires Wiki.
Auctorius, or Tomasonym as he was then known, adopted the wiki on the 14th of May, 2014. Now, for those who don't know, adoption is a process by which users who are particularly active on a wiki can get admin and bureaucrat rights on it if there's no one else and the wiki is dead. Before him, the wiki was a "barren wasteland with anyone doing what they pleased". For reference, below I present a snapshot of how the mainpage used to look circa 2013.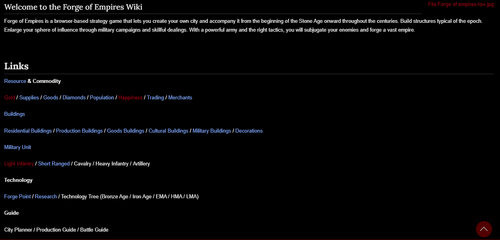 Shockingly different from the way it was in 2017, when Auctorius left, right?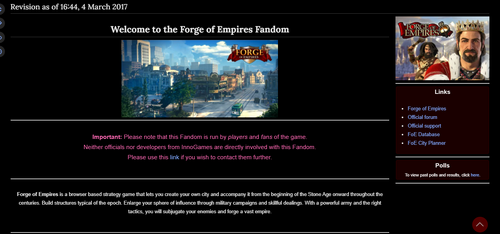 The screenshots above present but a small glimpse into Auctorius' contributions to our wiki. When I took over as the Main Admin in 2017, I had a team of four other admins, and a respectable community. But when Auctorius took over in 2014, there was absolutely no one. I have worked with a few other wikis which lack an established user-base, so I know first-hand how despairing and frustrating it is when you've put in hours upon hours of work, but there's no one else to appreciate or even acknowledge it.
Building a community sounds easy to say, but in reality its insanely difficult. How can you even build a community when you're the only one around? The answer is, by sheer grit and determination. You have to be relentless and doggedly pursue your passion. And this is what Auctorius did. He did not bother as to whether there was anyone else to see his efforts. Indeed, for a large part of his tenure he was the only one who worked on the wiki, there was no team as such. I cannot even imagine the perseverance one would need to have to do that. From juggling events, buildings, quests to the maintenance work, it was all so much!
Even today, four and a half years after his voluntary retirement, Auctorius' legacy lives on. Every single aspect of this wiki, right from the theme to the basics to the buildings and the quests and even the events, all have their foundations built by Auctorius. It was he who envisioned the way our wiki would turn out, and we have just built upon his dreams.
I was disappointed that I could not have a last conversation with him before he relinquished his position. However, by some means I managed to trace him down and we had a pleasant exchange. I can think of no better way to conclude this post than by stating his final words to me:
| | | |
| --- | --- | --- |
| " | I do however see that this Wiki lives on, and that you and your fellow contributors have taken good care of my legacy and developed it further. It pleasens an old FoE'ers heart. | " |