The Villa is an Iron Age premium residential building that costs 200 Diamonds to be build. It is available as soon as the player advances to the Iron Age. The Villa produces 100 Gold every hour and provides 87 Population.It is essentially a Longhouse that takes up half as much space.
If the player decides to research the Multistory House, it is recommended to replace the Villa with it.
Efficiency
25.00 per tile and hour [1]
Update
In update 1.85, the graphic of the Villa was reworked.
Gallery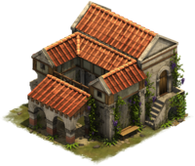 Other Residential Buildings
↑

Efficiency is measured by an assumed maximum production per hour divided through the number of tiles of the building and can be used as a subjective comparison towards other residential buildings.

↑ 2.00 2.01 2.02 2.03 2.04 2.05 2.06 2.07 2.08 2.09 2.10 2.11 2.12 2.13 2.14 2.15 2.16 2.17 2.18 Premium Buildings.
Community content is available under
CC-BY-SA
unless otherwise noted.