This article contains information about unreleased content, and may contain spoilers.
Any content presented on this page is subject to change as InnoGames
may alter game aspects prior to their official release.
Click this banner to show/hide all Spoilers on this page
Work in Progress!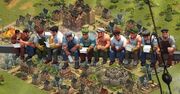 A work in progress is being carried out on this page by Pafton,
and it may undergo critical changes while this message remains in place.
As a courtesy, please contact the user before making edits on this page.
The Virtual Future is the seventeenth age in Forge of Empires.
Map
Virtual Future Continent
Stage 1
Provinces
Rewards
Map Stage 1
Buildings
Residential Buildings
Generational Home
VR Lodge
Properties
5,880
4,410
7,720 in

04:00:00

22,320 in

08:00:00

4x5
3x3
Two-lane street required
Road required
Construction Cost and Building Time
358,000
837,000
750
08:00:00
00:00:20
Production Buildings
Goods Buildings
Cultural Buildings
Military Buildings
Decorations
TBA

Properties


Construction Cost and Building Time



0:00:05
Roads
TBA
TBA
Properties
Construction Cost




Great Buildings
Community content is available under
CC-BY-SA
unless otherwise noted.